IQ Navigator :: Case Study
---
Overview
IQNavigator is a pioneering SaaS Company. They bring sophisticated technology and services to Global 200 companies requiring complex workforce solutions. Their patented platform handles all aspects of integration, compliance, security and mobile computing. This platform is consistently ranked #1 by Forrester Research. Their managed services programs flawlessly implements the technology and executes the plan in whatever countries and currencies their clients require.
Carolyn Wagner, Inc. was brought in to evaluate the company, it's business model, their competitive position, and future goals. The process began with a deep dive to uncover the roots of the brand issues.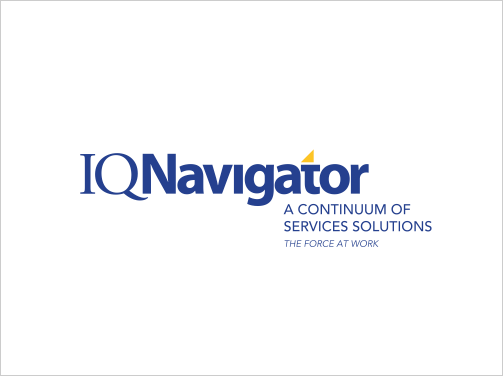 Problem:
After great success as a start-up in 1999, IQN was experiencing a brand identity crisis. Quite simply, they had not grown up as a brand–even as their business had become a global leader. They and their customers felt their communications were disjointed and did not address current perception issues. Changes in the executive suite, an infusion of capital and an aggressive 3-year plan pointed out the urgency to uncover the new soul of this dynamic company.
Solution:
Wagner, Inc. set out to concept, create and deliver a complete Brand Strategy and communication materials revamp. Launch timing was critical as the industry's top Tradeshow was taking place in their HQ city of Denver in 6 months. Budget is always a factor and Wagner worked transparently with the CMO to match their line items with specific deliverables. The plan also accounted for in-house talent and new marketing hires.
---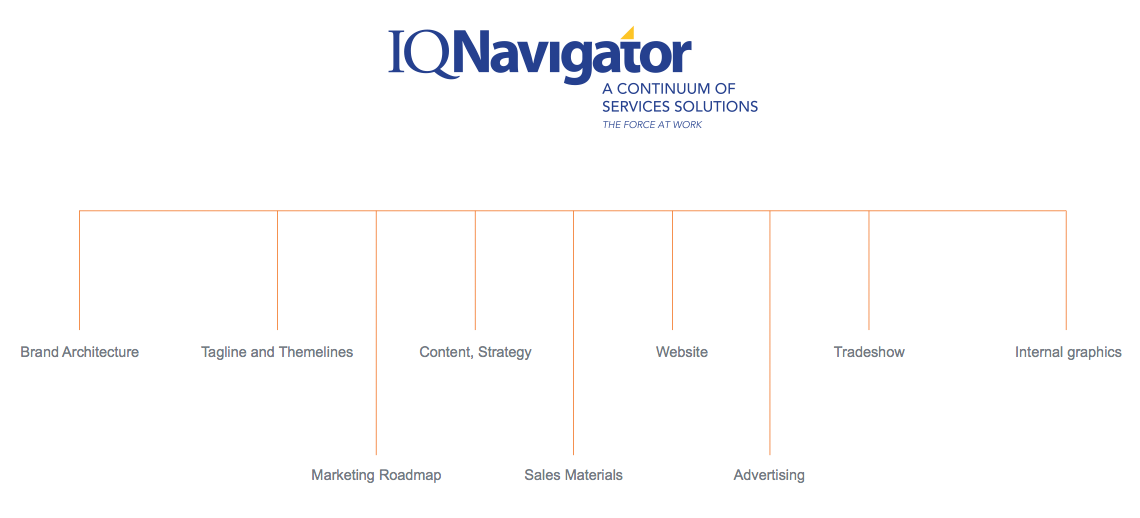 1. Brand Architecture Book
In concert with Wagner, Inc and IQN's Executive Board led by SVP of Marketing
a. Deep think tank, R&D, recorded meetings, rank and file interviews, whiteboarding to learn product tech, and company key findings.
b. Review and build competitive analysis for messaging, tone, websites.
c. Deliverable: 40+ page Brand Architecture Deck. Included brand essence, core values, visual landscape, competitive review, value props and messaging strategy.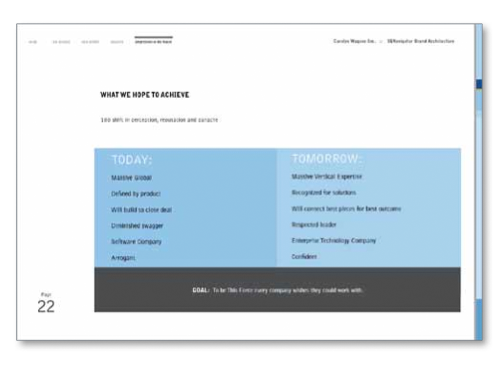 ---
2. Tagline and Themelines
Saying more with Less
a. The brand architecture work led us to a compelling new tagline and themeline for the business. Importantly, the two-line strategy allowed the two dominant portions of their business to each have a unique position.
b. As a tech product with aggressive and innovations and legacy patents, IQN constantly evolves. This was captured in the Themeline: A continuum of services solutions. This line promises that buying the platform means ongoing best in class technology.
c. A secondary Tagline was created to use in positioning specific implementation, and on-the-ground integration the company also sells. The Force at Work.
---
3. Marketing Roadmap
The Wish List and the Reality Check
a. Reorganization/prioritization of a revamp of brand assets, systems, and product positioning.
b. Sales Flow Analysis to determine lead sources and effectiveness, including events, campaigns, web analysis.
c. Deliverable: Unified plan to build, budget for and roll out Sales Decks, Case Studies, Collateral, PPT, White Papers, PR, Advertising, Analysts, Public speaking, Website and Media buying.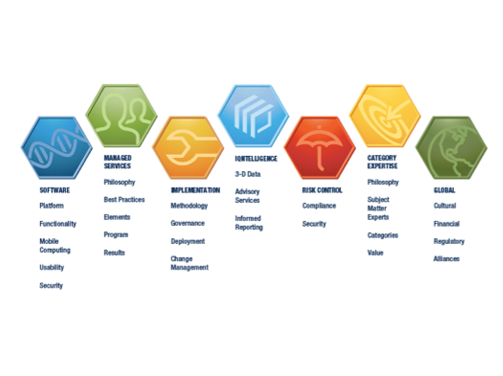 ---
4. Content, Strategy
Messaging made to all work in sync
a. Develop and create new content for all categories, products and voice of company.
b. Conceive of modular content build for unified system used in all communications, including analysts, industry leaders and trade messaging.
c. Deliverable: Plan and all content.
---
5. Sales Materials
A unified voice throughout the organization
a. Development of all materials in the Lead Chain including PPT's, White Papers, Press Releases,Templates, and Resources of Webinars, Podcasts, Video.
b. Collateral of multiple product categories and company.
c. Deliverable: Sales Assets Library easily customized by sales force.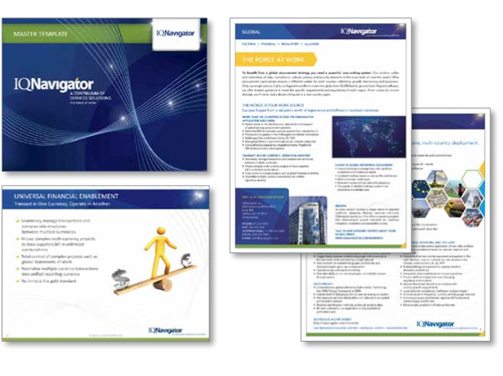 ---
6. Website
Built from Scratch
a. New structure via redo of Global Nav and all Sub Nav items.
b. Look and feel set to new Brand Character.
c. Deliverable: New Site on PHP platform with architecture integrating and cross-feeding suggested content from major site buckets, including Product, Resources, Blog.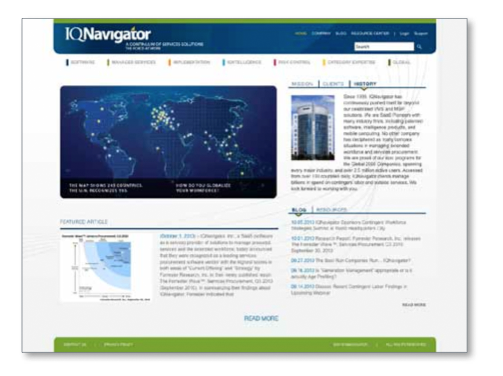 7. Advertising
Designed for Impact
a. IQN's Brand Launch at the CWS Tradeshow required a concentrated media plan and materials.
b. Denver International Airport greeted conventioneers with IQN train wraps, backlit column pieces and mural- sized graphics.
c. Deliverable: Outdoor, Site Specific, Trade Pub Print and Banner Ads were used for both CWS and Europe shows.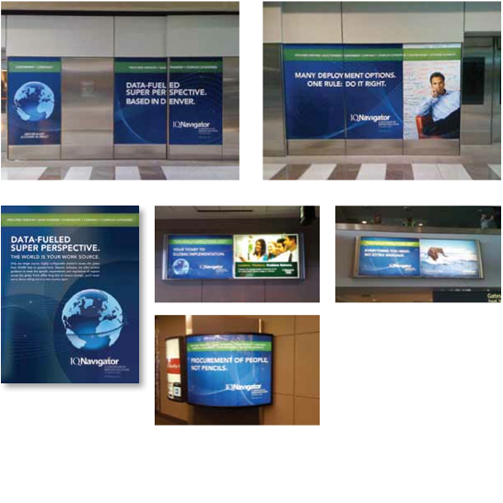 ---
8. Tradeshow
Unveiling the New Brand
a. The entire both was re-skinned with new communications.
b. Flexible custom messaging to target specific conversations. Dual videos alternating shorts on category expertise and new product launches.
c. Deliverable: Complete booth, graphics, handouts and events program.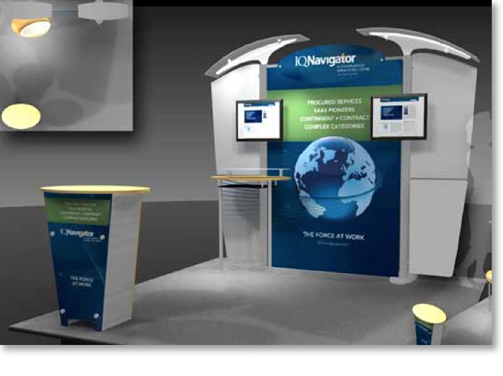 ---
9. Internal graphics
Turning Employees into Evangelists
a. Created powerful imagery for company lobbies with key messaging and imagery from ads, trade show, and graphics.
b. Repurposed videos for lobbies.
c. Deliverable: Complete sell-in materials, guidance and presentations throughout the branding process to gain full buy-in from CEO to Interns.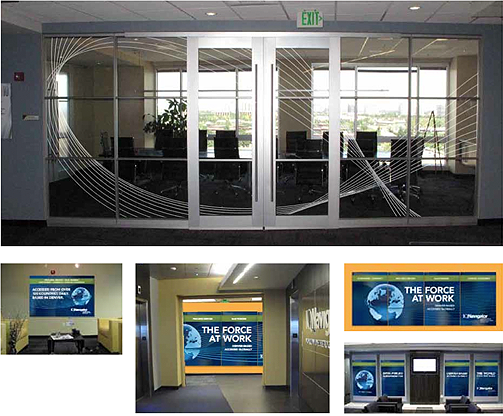 ---
Results:
1. Increase in web traffic — 164%.
2. Company sales doubled.
3. A solid brand presence and identity of confidence, authority and partnerships in the market place.
4. A locked down but flexible messaging system that is unified across all business units and all offices worldwide.
5. Our efforts of their Thought Leadership programs resulted in being named best in class for their category by Forrester.
6. Within 1 year of the program, they were also named the Top Technology Company in Colorado.
7. Long-term, their web presence will create a community built on a brand that continues to be an ever-evolving continuum of services.